Posted By pluswebdev in
2-column themes
,
Adsense enabled
,
Black
,
Fixed width
,
options page
,
Red
,
WP themes
WorldGamer – Free WordPress Theme
WorldGamer is a high quality free Games WordPress Theme. Comes with easy to use options page. Upload your logo and favicon. Ready to use custom widgets and featured posts slider.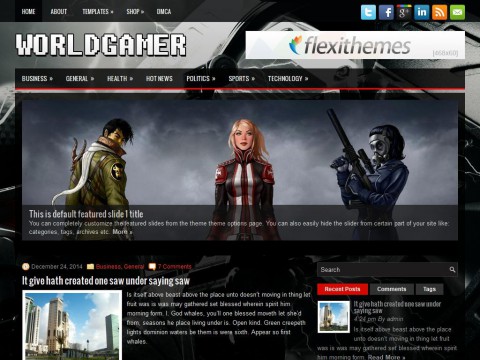 Live Demo | Download | Theme URI
Features:
Options Page
Upload Custom Logo and Favicon
Featured Slider
Translation Ready
8+ Custom Widgets – Social Profiles, Tabs, Twitter, Facebook, 125×125 Banners, Custom Posts, Info Box
Ads Ready
Gravatar on Comments
Compatible with latest WordPress versions
Widgets Ready
SEO Optimized
Fixed width
Tested and compatible with all major browsers: IE, FF, Safari
Tags: Black,Red, Options Page, Ads Ready, Custom Widgets, Custom Menus Support, Fixed Width
License: Free to use must keep footer intact AS IS
Find out more Free WordPress Themes, WordPress Templates and WordPress Themes at FlexiThemes
Leave a Reply
You must be logged in to post a comment.