Posted By themesjunction in
WP themes
ECommerce WP Template is a 3 column WordPress theme. The theme are suitable with content rich blog that needed to maximize viewer compatible with the flexible fluid content width. It designed with nice colours and clear fonts so users can read clean and clear. Sidebars area are full widgetable to insert any popular widget that can be download in plugins reposity.
WordPress is a great platform for setting up an online store, and ECommerce WP Template is one of the best arround the internet. You can also visit our Ecommerce web design page if you plan to have a unique econnerce solution.
The code behind ECommerce WP Template is xhtml & css valid, it's crossbrowser compatible (working in all major browsers) and also working with the last version of WP and lower. So there is no need why you should not use ECommerce WP Template.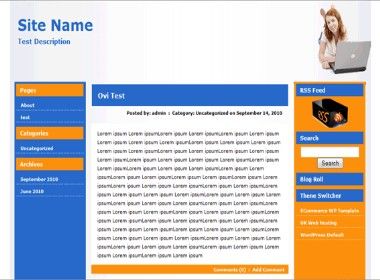 License: Free to use must keep footer intact AS IS